Ritz-Carlton – Laguna Niguel
May 19-22, 2011 — Dana Point, CA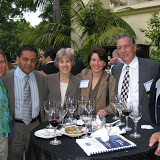 Presentations & Handouts
Thursday, May 19, 2011
Practice Diversification—A Key to Success
Moderator: Glenn Pfeffer, M.D.
Employing an Occupational Medicine Physician in your Orthopaedic Practice
Nicholas Colyvas, M.D.
Employing a Non-Orthopaedic Physician in your Orthopaedic Practice
Keith Feder, M.D.
Orthopaedic Surgeons as Independent Contractors
Basil Besh, M.D.
Legal Update on Ancillary Services
Employment of Physical Therapists: Is it Still Legal?
Update on In-Office Radiology
Current ASC Issues
Tim Shannon, COA Lobbyist
Incorporating NPs/PAs in an Orthopaedic Practice
How They Enhance an Orthopaedic Practice
Billing and Coding Issues
Karen Yamada, NP, CANP
Eric Glassman, MHS, PA-C, President, CAPA
How to Find the Right Practice Manager
Mike Heifferon, Ph.D., MBA
"Magical" Processes that Improve Efficiency and Decrease Overhead Costs
Roland Winter, M.D., Alpine Orthopaedic Medical Group
What are the "Rules" for Working Successfully Within a Workers' Compensation Provider Network
Stephanie Graham, Preferred Employer's Insurance
Stephen Levit, M.D. Liberty Mutual
Anne Searcy, M.D., Zenith
QME Course – Part I
Moderator:  Richard Braun, M.D.
Controversies in Orthopaedic Care:
The Facts on What Payors See
Alex Swedlow, CWCI
Why Payors Deny Services
Stephen Levit, M.D. Liberty Mutual
Importance of Functional Recovery Evaluations and Communicating Return-to-Work Strategies
Richard Braun, M.D.
Friday, May 20, 2011
Hands-On Surgical Labs/Educational Sessions 
Ultrasound for Diagnosing Orthopaedic Problems –
Ben Du Bois, M.D. and Lesley Anderson, M.D.
Presentation 1
Presentation 2
Presentation 3
Carticept Medical, Inc. (Sonosite)
GE Healthcare
Terason
Operating Room Efficiencies
Optimizing the Experience for Patients and Doctors in the Operating Room
Bruce Gewertz, M.D., Cedars-Sinai Medical Center
Hospital Co-Management Agreements and Surgeon Owner Distribution: The two most important emerging models for the private orthopedic group
John Steinmann, DO, Arrowhead Orthopaedics
Medicare Update
RAC Audits – Common Errors
National Claims Payment Error  (CERT) Triggers/Criteria for Review
PECOS – Is it Still a Problem for Your Group?
Mike Barlow, VP of Operations, PalmettoGBA
Cheryl Bradley, Ombudsman, PalmettoGBA
Electronic Medical Records
Can Specialists Meet the "Meaningful Use Criteria?"
Absolutely. Learn How.
Betsy Thompson, M.D., CMS Chief Medical Officer
Improving the Security of your Electronic Patient Data
The Common Sense Approach to HIPAA
Fred Kumetz, e-Data
Managing Your Internet Presence
David Nelson, M.D.
Handout
Tendon Injuries in the Foot and Ankle Moderator:  Nicholas Abidi, M.D.
Carol Frey, M.D.
Glenn Pfeffer, M.D.
Tye Ouzounian, M.D.
Steve Ross, M.D.
Innovative Techniques in Orthopaedics
Moderator:  Basil Besh, M.D.
Platelet Rich Plasma Therapy (PRP) – Russell Nord, M.D.
Unicompartmental Knee – Alexander Sah, M.D.
Hip Arthroscopy – John Jaureguito, M.D.
Workers' Compensation Update
Destie Overpeck, Esq., DWC Legal Counsel
National and State Legislative Update
Elizabeth McNeil, CMA
Tim Shannon, COA Lobbyist
Saturday, May 21, 2011
Resident Awards
Moderator:  Basil Besh, M.D.
Lloyd W. Taylor, M.D. Resident Award
Smartphone "Apps" for Orthopaedic Surgeons
Orrin Franko, M.D., UC San Diego
Orthopaedic Hospital Resident Award
Biophysical Stimulation Induces Schwann Cell Proliferation and Demyelination via an Integrin-Dependent Mechanism in an In-Vitro Model of Chronic Nerve Compression Injury
Michael Lin, M.D., UC Irvine
J. Harold LaBriola, M.D. Resident Award
Biomechanical Properties of Volar Hybrid and Locked Plate Fixation in Distal Radius Fractures
Derek Amanatullah, M.D., UC Davis
OREF Resident Award
A Mouse Model of Post-Arthroplasty Staphylococcus Aureus Joint Infection to Evaluate in Vivo the Efficacy of Antimicrobial Implant Coatings
Nicholas Bernthal, M.D., UCLA
Presidential Guest Speaker
John Callaghan, M.D., AAOS
Immediate Past President
Presidential Guest Speaker
Thomas Priselac, Past Chairman,
American Hospital Association President
CEO Cedars-Sinai Health System
Health Care Reform
Moderator:  Robert O'Hollaren, M.D.
Accountable Care Organizations (ACOs)
The Role of Specialists in Accountable Care
Organizations
Robert O'Hollaren, M.D.
Kevin Bozic, M.D.
ACO Handout 1
ACO Handout 2
Know Your Worth:  The Value of an
Orthopaedic Surgeon
Orthopaedic Practice Financial Trends:
Benchmarking Data
Mike McCaslin, CPA
Presentation 1
Presentation 2
Successful Strategies in Orthopaedics: What's Working Today
Hospital-Based Employment
John Meding, M.D.
Center for Hip & Knee Surgery, IN
Leadership of an Orthopaedic Group
Jerry Goldman, M.D., Webster Orthopedic
Bundled Payments – How to Share Risk with Your Hospital
James Caillouette, M.D.
Sunday, May 22, 2011
California Joint Replacement Registry – Will it be a Reality?
Kevin Bozic, M.D.
Open Mike with COA Leaders
"Inpatient" Surgery as an Outpatient
Spine – Michael Cluck, M.D.
Hip – James Caillouette, M.D.
Knee – Harlan Levine, M.D.
QME Course – Part II
Moderator:  Richard Braun, M.D.
The Third Party Perspective:  A Rater's Perspective  Common Report Writing Errors and How to Avoid Them
Mark Evans, DWC Rating Bureau
Improving the Ratability of your Medical-Legal and Permanent and Stationary Reports
AMA Rating of the Spine—Lumbar and Cervical
Paul Wakim, DO
AMA Rating of the Lower Extremity
Tye Ouzounian, M.D.
AMA Rating of the Upper Extremity
Richard Braun, M.D.